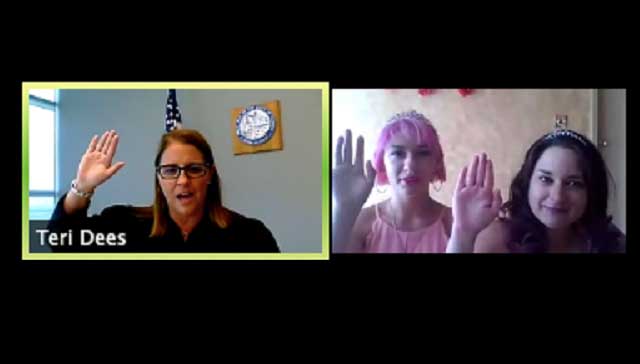 Technology is Saving Foster Children – One Photograph at a Time
It's been a virtual week for two teenagers in foster care. Briahna and Autumn's families both found them on the Heart Gallery's virtual photographic exhibit and their adoptions were finalized in a virtual courtroom in front of Judge Curly, who handles foster care and adoption cases in Sarasota. By moving adoptions online, more children have had shorter stays in foster care and are moving more quickly into stable environments.
Fortunately, we are now seeing how technology helps improve at least one aspect of the foster care system. For prospective parents, going online has always been critical in the adoption process. State agencies advise parents to look for children online who may be a fit for their families by searching all the Heart Galleries across the US. The site is a household standard for families seeking to expand their families.
The portraits of Autumn and Briahna attracted hundreds of inquiries on the site from parents who saw these teenagers as a perfect addition to their families. For the roughly 50 children added to the "Gallery" each year, the number of inquiries for each child as well as sets of siblings have similar results. The photographs create a connection, helping potential parents to process how a decision could change the life of a child,
It's the Heart Gallery's volume of inquiries that puts finding foster and adoptive parents into a powerful numerical context. Statistical data from the Heart Gallery's automated inquiry system consistently shows the number of parents who want to foster and adopt outnumber the children in foster care who are waiting for a family, yet the time children spend in foster care before finding stability continues to increase.
"Every child could have a home, but a digital transformation of the foster care system has to happen first, "commented Matthew Straeb, President of Heart Gallery of Sarasota and co-founder of Heart Gallery of America. The pilot of their Family Finder technology in Sarasota, Manatee and Desoto counties next month is positioned place more children with the right families faster.
When uncertainty brought on by the COVID-19 shut-downs resulted in a decline in the number of inquiries on the site, the organization acted quickly and secured a grant from the Libertore Fund. Implementation of the Family Finder technology across all of Florida has been a mission for the Heart Gallery of Florida, who has lead lobbying efforts to automate the overburdened system and after three years of passing the Senate and Congress, it is now before the Governor for approval for a statewide overhaul of the foster care system.